If you are a few months away from your wedding, choosing the perfect groom suit will be an enjoyable and fun mission, however, you will have to design a starting point to find the one that best conveys your essence and style. As there are as many suits as types of groomsmen, next we'll tell you which look will suit you best, depending on your lifestyle and personality.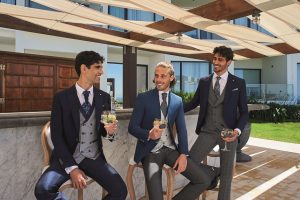 The big day is just around the corner and it's finally time to choose the perfect suit to celebrate the new stage of your life. And a good way to make the right choice is to do an exercise of introspection and analyze what kind of groom you are, how you define yourself in everyday life and what kind of style suits you best. You have the support of your best friends, who know you best and can define you. If you're still a little lost, this little guide will help you start your search and find out which groom suits are best for you. Ready?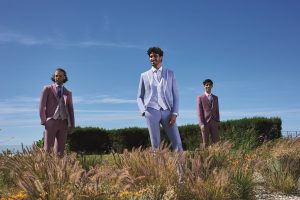 The adventurous groom
Young, informal, fun and with a very active social and professional life, if you are an adventurous boyfriend you like to follow your intuition and make decisions without thinking too much about them, because you know that, even if something might go wrong, in the end you will have fun and learn something for life. In your everyday life, you always want your outfits to be comfortable and offer you freedom of movement. And your wedding is no different. Opt for natural and slightly lighter fabrics, which allow you to convey a relaxed but elegant image at the same time. Look for comfortable patterns, with some strech. Play with shades such as burgundy, pink and beige and, of course, the whole range of light blue. If you want to dare with something different, try geometric prints, plaid or brocade fabrics.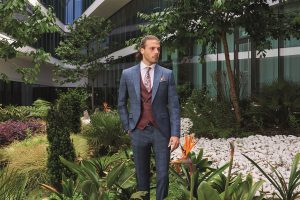 The alternative groom
Your personality is irreverent and you like to celebrate any special occasion, so your wedding will have that alternative and non-conformist touch that identifies you so much. You love music, going out with friends, hanging out in a bar and having fun. You practice physical exercise, but without pressure, just like a social event. With your outfits you always like to stand out your style and draw everyone's attention. You'll feel comfortable if you give a hipster touch to your wedding suit, reinforcing the sensuality of an Italian style, but adding a Latin counterpoint, with brocades, floral patterns or jeweled buttons, which give a rocker touch to the suit. Dare with colors such as blue in its less discreet ranges, bronze, burgundy or metallic greens.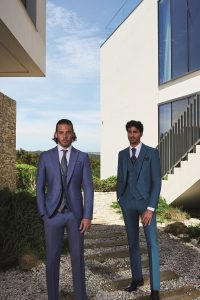 The classic groom
You want to feel elegant, but not overdressed. You always dress appropriately for each type of event you attend in your busy social calendar. You are basic in your wardrobe and you don't usually risk too much in your outfits, as you think that there are certain garments that you will always get it right. Your childhood friends are your main influence and to choose your wedding suit you trust your mother's judgment, of course one of the people who knows you best. You admire the elegance of the great cinematic myths, both in relationships and in your work. If you identify with any of these traits, you will look good in an Italian dinner jacket in traditional colors such as dark blue, grey or black, with a tie and waistcoat in the same or similar shades. An elegant style, with just the right balance between subtlety and sensuality.
The romantic groom
You enjoy dining out with your partner and discovering new restaurants, but you prefer a good sofa session and a series to any social event. You are thoughtful, caring and love to make those around you happy. Your style of dress is both smart and casual, with a classic touch. When you think of your perfect groom suit, the first thing that comes to mind is for your bride to like it. Seeing the sparkle in her eyes when she sees you at the altar is what matters most to you that day. In this case, always go for the cut or pattern that best enhances your silhouette and give her the luxury of choosing the color she prefers for you. This way, both of you will be winners.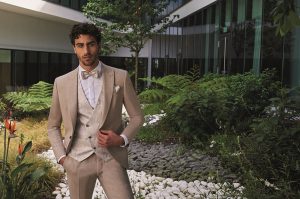 The intellectual groom
You like events and going out with your friends, but above all you priorities is a good conversation. You are excited by art and your motto is that knowledge never takes up space. You want to live your life to the fullest, making the most of every situation that comes your way, without forgetting elegance and the concept of dressing well. Your style is formal at events and more relaxed in everyday life. You recognize the importance of a good look, but you are not overly obsessed with it. For your groom's suit you can choose soft colours, even daring with the range of whites and beiges. Go for sleek lines and add a personal and artistic touch by choosing geometric or jacquard print accessories, with contrasting bronze or white. Slim fit patterns will give a seductive air to your outfit.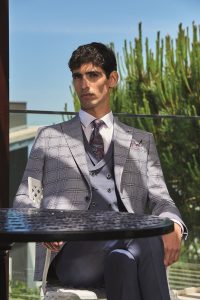 Do you identify with any of these types of grooms? If so, congratulations! Now you have a clear line to start with, so play with colours, look for the perfect combination according to your body type and give it a personal touch with the accessories. If you are between two types, our advice is to always go for the outfit or style that transmits the greatest dose of joy and illusion, two essential words in these important moments of your life. And if, on the contrary, you feel that your personality does not fit into any of these patterns, you have the opportunity to experiment, try and enjoy twice as much in your search, because the adventure of choosing this outfit will be difficult to forget. Enjoy!
Visit our Instagram and choose the perfect groom suit .